・・・"OKAZAKI air fleet (navy) and P-51 shooting down information" please・・・
『OKAZAKI air fleet (navy) and P-51 shooting down information』
1. Reconfirmation of Lt.Chism information

Report of Investigation Division by GHQ

In the beginning, it escapes with the parachute due to the P-51 shooting down event of Okazaki naval forces Air Squadron on the day of the summer 60 years ago, and information on the Lt. Chism who became the prisoner of war of Japan naval forces is reconfirmed.

A right document is an outline of the GHQ/SCAP record after the end of the war, and a part of report NO2773.
The title is P51 unknown crash at Aichiken, Okazaki-shi, Okazaki Air Base on 15 July 1945. 2nd Lt.Ronald E.Johnston,victim.

As for July 15.1945, two or more P-51 was shot down. However, Information on a pertinent machine was not obtained for the investigation of the 2Lt.Jhonston machine. And, it was judged that it crashed in the sea while returning to the base and did the investigation end.

However, the record that questions on parties concerned of Okazaki naval forces Air Squadron of 11 people, One was shot down near Air Squadron the day, and the Paul E. Chism lieutenant of the pilot who returned after the end of the war was shot down to 1945.7.15 and arrested. Moreover, Mr. Kondo was an attack of 1945.7.15 Air Squadron, and it was testified that one dragged smoke due to the trouble and it had thrust it from the head.

Therefore, the P-51 shooting down event is judged to be July 15. 1945. Chism lieutenant's step after it arrests it, the investigation was received in the command of Okazaki naval forces Air Squadron, and it was transported to the Ofuna naval forces prison camp by Toukaido Line. In the list of names of the prison camp, it is judged by july 18.1945 that it was imprisoned to the Ofuna naval forces prison camp with july 18.1945 captures though it is. Moreover, in the following Chism lieutenant's testimony, He described to have been hit by the civilian in the train while transporting it.

The NewYork Times of Sep 5.1945 after the end of the war reported on the prisoner of war liberating of the Ofuna naval forces prison camp. Therefore, it seems that he was liberated in the beginning of September.

Moreover, Paul Edwerd Chism lieutenant's military list number 0-716062/Lambert Mississippi /Ofuna prison camp is described in the record of Sep 8.1945 War Crimes Office.
2. Chism lieutenant's news

Email from granddaughter

4 years passed after having disclosed information on Lt. Chism of P-51 pilot. Meanwhile, information on him cannot be received.

Afterwards, my B29 Website is Journalist Ms. Kinue.Tokudome in the U.S . However, Student in Japan-U.S . It was introduced to the prisoner of war experience record of Mr. Hap of US-Japan Dialogue on POWs that had done disclosed for at the end of 2004. Therefore, the number of Hit of B29 Website had increased little by little.
Therefore, it looked forward to the visit of Chism lieutenant's parties concerned of Website one of these days.

And, it is long-awaited mail. Subject: Paul E. Chism was received to Jan 26. 2005.
Those who transmit are Elizabeth Chism, and contents of a letters are "My grandfather is Paul E. Chism POW . "

Afterwards, it seems to be certain that it is Mail from the grandchild though the information exchange with her has not succeeded why. Therefore, the Lt. Chism safely was returned alive, was married, and lived life in postwar days.

I think suitable good news for finishing off also of this information my Recollection of B-29. I believe that Ms. Elizabeth Chism read B-29Website, and my feelings were transmitted to the family of Mr. Chism. I pray for Chism people's good lucks.
3.Chism lieutenant's news・ Sequel

E-mail from Mark Stevens
Afterwards, though there was no information on Paul Chism for about three years,
Nov 21. 2007 message : I am the historian for the 20th Air Force Association and 7th Fighter Command and am friends with both Hap Halloran and Paul Chism.
Paul was a Pilot in the 78th Fighter Squadron, 15th Fighter Group and was flying #137 that day
Paul Lives in Alabama Here is his address if you would like to write him:
Paul Chism
PO Box XXXXXXXX
Birmingham AL USA
Website of 7th Fighter

Bravo, and I shouted and flew up reading this e-mail because of gladness. Desire that he returned safely alive during half a century and Years of 8 years had passed after having requested his information with Website. This is wonderful, it is years of 62 years and four months. It was long-awaited information in me though it was one e-mail.

I immediately asked the recent situation of Paul with re-mail.

Re-mail from next day's Mark.
Okada-san
Thank you for your quick response.
Mr. Chism was in reasonable health last time we spoke. He has attended many of my reunions and is a very fine gentleman. I will see if I have a photo of him when I get home tonight from work and I will send it to you in an e-mail.
Sincerely
Mark Stevens


Sequel e-mail from Mark
Okada-san,
Here is a photo of Paul Chism taken at one of our last reunions
Sincerely
Mark

Sequel e-mail
Okada-san, The last time I spoke with him was a year ago. He was born in 1924 so that would make him about 83 years old. The photo was taken 4 years ago when he would have been 79.
As the historian for the 78th Fighter Squadron I would also appreciate a copy of any historical documents you have on Paul and also the B-29 crew.
I am the historian for the 20th Air Force Association and have 13,000 living pilots and crew in the United States. ...Omission

I was able to confirm the photo, the age, and the belonging force etc. of Paul by the information exchange with Mark. He when escaping with the parachute in the Mastang shooting down of Jul 15. 1954 becomes 21 years old from these information. The survivor is not excluding him on the same day though four Mastang is shot down. I was able to confirm his living.

I wrote the desire to him of 63 years in the letter. And, I enclosed GHQ record at that time, Photograph of propeller of Mastang shot down, Route map where prisoner of war Paul was taken with him in Alabama and sent it.

Dec 19 2007 E-mail from Jackie Rollo
Mr. Okada: I work in the same office as Paul Chism from Birmingham, Alabama and he has shared the information about his plane crash in 1945 with me. Please tell me if you can receive this e-mail. Thank you, Jackie Rollo

Kunio: Please write to me about Paul Chism in Birmingham, Alabama. He was shot down in Japan in 1945. I have your letter. Thank you, Jackie Rollo

Kunio: Thank you for answering my e-mail. I was born in Nuernberg Germany and have lived in the US for about 30 years. I was born during WWII and have always been very interested in all events which happened during those terrible years. I have known Paul Chism for about 10 years and think a lot of him.

I will wait until he comes into the office to see what he wants me to write. What is the name of the prisoner of war camp where he was held? He wants me to look it up on Google. Thanks ? hope to hear from you soon. Jackie

Thereafter, I was indebted to Jackie many times. Thank you for Jackie.

Jan 12 2008 E-mail from Paul Chism
I am sorry not to have been in touch with you sooner but with the holidays and some travel just haven't had the time. I AM NOT TO GOOD AT TYPING SO BEAR WITH ME ON MISTAKES.I was delighted and surprised to recieve your lettet.Iknow you have been in contact with Jackie in my officeand asked her some questions concerning my family.They consist of daughter,Laurie,son paulJr,deceased and two grandchildren,Eric and Elizabeth.Ihave been married three times with first two deceased. I have many things to ask but am not good with this E mail and typing . will attempt more later. Paul

Mar 17 2008 E-mail from me to Jackie & Paul
I am a desire that wants to listen to the Mastang shooting down fact of the case 63 years ago from Paul. However, the information exchange 63 years ago is difficult. Then, he escaped with the parachute, and the photo in the landing point was sent to him.

1) Forest in the vicinity of landing point

It seems that the Paul lieutenant landed in the farmland near this forest 63 years ago. In this forest, there are imperial household's Imperial mausoleum and Renge-ji Temple, and the appearance 63 years ago is kept roughly.

At that time, there are neither a house nor a kindergarten around the forest. Forest surroundings were all farmlands. It seems that Paul was arrested near this forest. He seems to be a little time to have seen this forest as blindfolded after it had arrested it.





2) Gate of Renge-ji Temple

This is a gate of Renge-ji Temple in the forest. At that time, it was used as a temporary clinic of Okazaki naval forces Air Squadron.

Pilot Joe walker lieutenant of Mastang that was shot down on the same day, crashed in present Anjo City with the airframe, and had died immediately was buried in the graveyard in this temple. Therefore, these temples are temples of the connections of pilots of Mastang.

These photos were delivered to Paul with via Jackie for me.

Mar 19 2008.3 E-mail from Jackie.
Kunio:
Thank you for your e-mail with the photos. I showed them to Paul this morning and he did not remember much. Paul wanted to know when (what year) the temple was built. I am trying to send you a better photo of Paul. Be patient. I should have it tomorrow. Jackie




3) Taking route map of Paul POW

It blindfolded after the arrest, both hands were bound, and Paul was taken to the part of the squadron commander of Okazaki naval forces by this route.

I stared at the file of the Paul taking in the middle point.

4) I met Paul Chism again

This article was appended to e-mail from Jackie next morning. She tells it to use this photo with your Website. I am a desire to meet Paul again now since this photo is seen, this article is read, and 63 years pass.

In these information exchange, My desire is transmitted to Paul. His desire also, Afterwards, I understood his life.

This article introduces his life and character through work. Please read the introduction article clicking the photo. I translated the full text in this article into Japanese. And, it was opened to the public on a Japanese page.

I publish this article in commemoration to be able to meet him again in 63 years. And, it wants to praise his activity in postwar days, and to finish off the recollection of B29.

He is a birth of the farmer in Mississippi state. After it had graduated from the high school in 1941, it escaped from Mississippi. And, it began to work at the Caterpillar sales agency that the uncle managed. In WW2, it made a sortie from Iwo Island as a pilot of Mastang. And, it was shot down, it became the POW of the Japanese Navy, and the war ended the one month later.

Afterwards, please read this article his large activity.

He contributed to the US economy in postwar days. And, He present is graceful retirement life. Christmas holidays to Florida for a long term, And, he is enjoying the life because he travels cruising to the wife and the virgin island.

I was able to finish off the desire 63 years ago by the happy ending. On the other hand, a lot of soldiers and civilian are sacrificed in WW2. There should have been a wonderful like this life respectively. It seems that life and death is divided, and survived Paul held out to the amount of the comrade-in-arms who was killed in the arena of warfare.

Paul Chism:
Right-Hand Man (Please read clicking) 

4.Thank you to informers

Mar 29 2008, Recollection of B29 the 6 edition was able to be opened to the public. Years of just 8 year were passed from Mar 29. 2000 that I had opened Recollection of B29 to the public. I got a lot of giving informations from the visitor in Japan-U.S. and e-mail of the encouragement between those.

I wish to express my gratitude to Paul Chism giving information person's Kazuhiko Nakamura of Japan, historian Mark Stevens, Jackie Rollo of information relay and Grandchild's Elizabeth Chism. Thank you very much.

I memorized in Jul 15 1945 63 years ago meeting Paul, and by mistake as the boarding member of B29, learnt B29 by the favor, and held small Japan-U.S. friendship that reflected on the war. I wish to express my gratitude for Paul. Thank you for Paul very much.

In addition, I get and wish to express my gratitude for e-mail of your a lot Website visit and encouragement. Thank you very much. Mar 29 2008, JA2TKO/Kunio Okada.
5, Paul E, Chism Obituaries (Passed away on July 9, 2014, 90-year-old )
July 11,2014、Mail obituary of Paul E, of Chism from granddaughter,
email:
I wanted to inform you that my grandfather has passed on.
I feel fortunate that I was able to connect the two of you many years back.
He often spoke about the connection I made between the two of you.
Best of luck to you!!!
Elizabeth Chism
Granddaughter of Paul E. Chism
Reply:
Dear Elizabeth Chism
Thank you for contacting the passing away of the great grandfather of you.
Our heart was filled with sorrow on hearing of your granddaughter of Paul E. Chism
Mail exchange with your grandfather that I have met in boyhood was a very great things for my life.
The reason,
That my thoughts ran through your grandfather I am very happy.
 Please accept my sincere condolences,
I've read the Paul E. Chism Obituary Guest Book.
Thank you
Kunio Okada from Toyota Japan,
Introduction to the website of Birmingham Elizabeth Chism is introduced,
Paul E. Chism Obituary Guest Book
The article:
Paul E. Chism Obituary Guest Book
May 19, 1924 - July 9, 2014 Mr. Chism, age 90, of Birmingham passed away Wednesday, July 9, 2014.
He served in WWII as an Army/AirCorp Pilot and was a P.O.W. He was a long time member of Vestavia Hills United Methodist Church,
ex P.O.W. organization, Vestavia Hills Country Club and the Alabama Road Builders Association.
He was retired from Thompson Tractor Company as a General Manager after a 40 year career.
He was preceded in death by his wives, Margaret Chism and Jane Neely Chism,
and son Paul Chism Jr. He is survived by his wife, Martha Chism, step-sons,
Mark Neely (Marie) and Jimmy Neely (Ann), daughter, Laurie Chism, step daughters, Wendy Henry (Patrick) and Annette Mills (Jim), grandchildren, Eric Chism and Elizabeth Chism, great granddaughter, Riley Chism, former daughter-in-law, Jennifer Kirkland (Harry) and a number of other grandchildren.
A memorial service will be held Friday, July 11, 2014 at 11:00 a.m. at Vestavia Hills United Methodist Church with a reception following. In lieu of flowers, memorials may be made to Vestavia Hills United Methodist Church or a chosen charity.
6,Memories of Mr. Paul E, Chism,
I met you, it was the afternoon of July 15 1945.
You attacked the Okazaki Navy Air Fleet in the P-51 Mustang fighter.
And is shot down by machine gun attack of the Japanese military, became a POW,
I met you it is time that. At the time, I was a 7-year-old boy.
You were a foreigner I have seen for the first time. You hand was hidden eyes tied behind.
Scene you staring at the village going out together for you to be taken to the Japanese military, step-by-step after revives vividly.

It becomes the end of the war before long, it becomes pro-American,
POW at the time you went back to live? I think that began to grow in the mind of the boy.
I spent a half-century while I think the POW had escaped with parachute from B-29.

This event, became the starting point of "Recollection of B29"
Opened a HP in order to unlock the legend of the B-29 that crashed in neighboring districts, it was released to the world The Leading Lady shot down information.
Over time, the provision of GHQ working papers, became the place where the knowledge of B-29er many of the United States.
Through the acquaintance Mark Stevens's Chism's comrades Association, To give the news of you, it is that of seven years ago.

And he committed to airmail to write down my thoughts of half a century to your home in Birmingham.
Arrives safely, it is the beginning of the correspondence of the miracle.
From Jackei Rollo's relay Secretary, remal The first I heard the recent state of you.
You wrote of mail surprise keyboard operation despite difficult. I was happy. Letter from Elizabeth granddaughter,
Both were news that heart beats fast from Birmingham.

I've read and the "Reflections"convey the success of your post-war. I do not see you directly to you, For some reason, life of your 90 will be remembered. In World War II, many people were separated life and death. Thank you for the reunion of the miracle of the boy who survived in evacuated with you who returned alive. Thanks to you, and learn the B-29, can also friend through HP, Japan and the United States goodwill also was able to. I hope the world and not the war, for the souls of Chism's.

Day of the memorial service July 12 2014 Chism's, JA2TKO, Kunio Okada,
7,Shot Down / Experience of Paul Chism/70 Anniversary
Paul Chism is to belong to the Seventh Fighter Commnd, was shot down during an attack Okazaki Naval Air Corps in July 15,1945.
It was just today 70 years ago from now. I met with him on the day of first grade elementary school.

July 7,2015, Nwes Letter is to arrive to me that he told in detail the situation at the time of shooting down.
Sender, Terrence Popravak Vancouver, WA, arrived from the USA.

He is the editor of the Website "Osaka air raid = Osaka Kusyu"
I will publish to commemorate the shooting down 70 anniversary of Paul Chism.

Source:
SUNSETTER'S GAZETTE
Newsletter of the
Seventh Fighter Commnd Association
Winter 2005 VOLUME XXIV NUMBER 1
4Page - Shot Down -
"7thfighter.com"
7th Fighter Command Newsletters
"News Letter"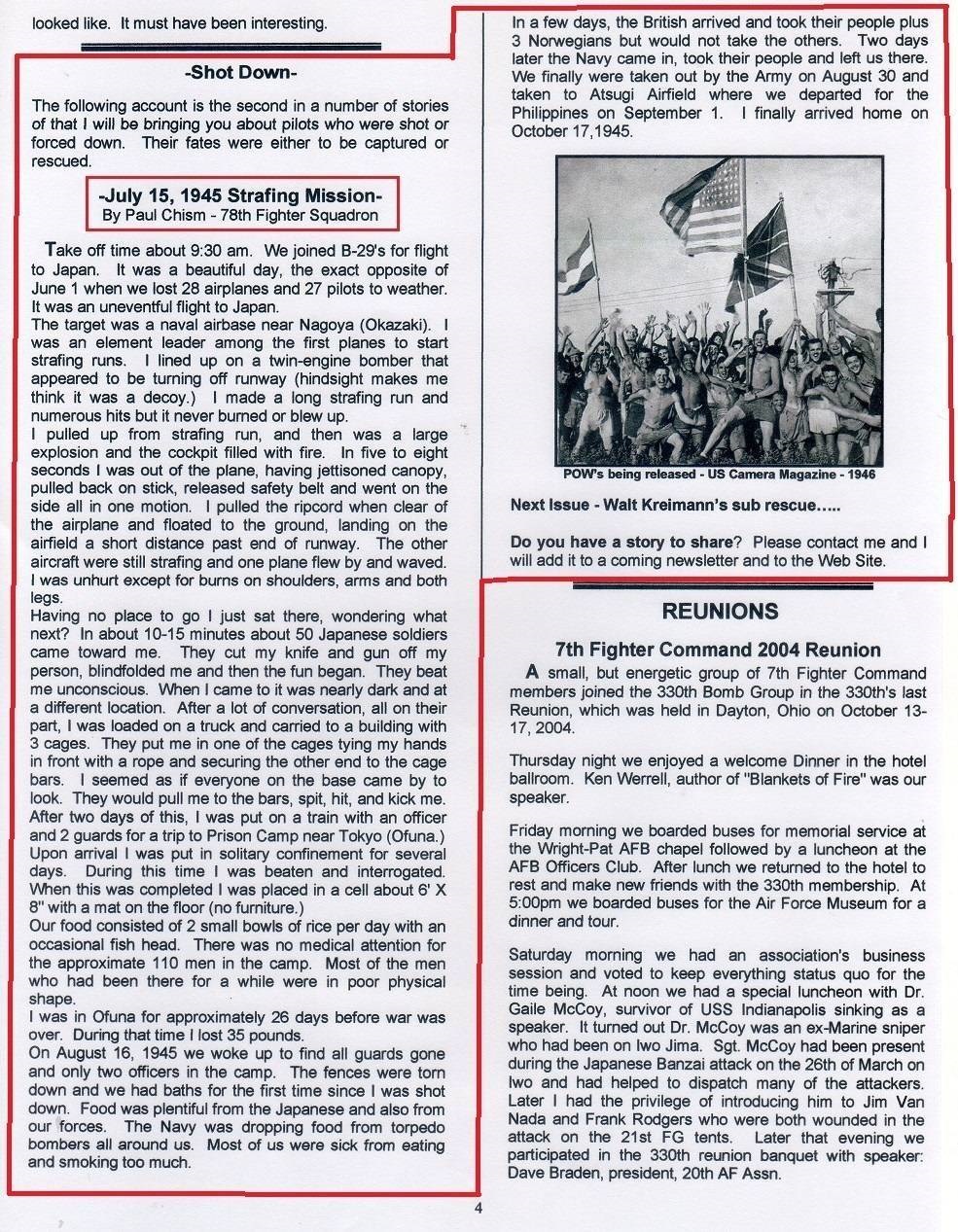 Long for Peace in the Japan-US friendship,

---
Returns to top page of B-29.

***