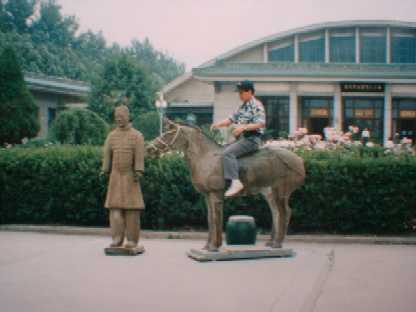 Suburbs of Sian. "HEIBAYOUKOU" museum.
We arrived at Sian with the non-stop flight from Nagoya. It goes around the sights and historic sites of the Sian city, the suburbs. We passed through the time tunnel in 2000. The dinner show in an at night gorgeous hotel.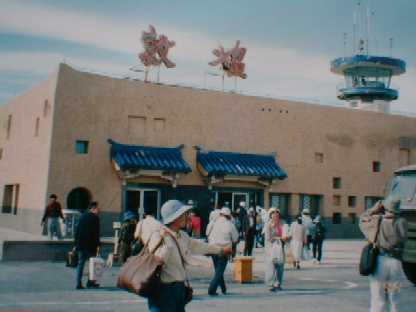 "Toruphan airport"
The strategic point of the Western Region /Safely arrival at the ground of Buddhism transmission.

The China northeast airplane that started out Sian. The Silk Road up in the air it faces Dunhuang. It entered to the Western Region of China. There is the stage of the movie "Dunhuang" of the Yasushi Inoue original. The railroad track of the railroad sometimes appears and disappears under the eye, besides it is a desert. There is nothing and I think that if this is Silk Road.

Dunhuang was in sand.
| BAKKOUKUTU distant view | Central large Buddhist temple | Castle wall of the Dunhuang castle | Bell tower inside Sian castle |
| --- | --- | --- | --- |
| Position to the east wall of the MEISA mountain | There was one big image of Buddha in this middle | Stage of the movie "Dunhuang" | Old days told time with this bell |
| | | | |
| MEISA mountain | Gekkasen (an oasis) was aimed at with the camel | Gekkasen (an oasis) | Sian street where I saw from the Daigan tower |
| --- | --- | --- | --- |
| Golden sand hill that shines on the setting sun | Rest even a strong camel in a desert | This spring spouts even for more than 2000 years | This way connects to Silk Road |
| | | | |
---
Return to Top Page of English

*******

******