---


Introduction of Toyota city
---
Please see the homepage of Toyota-city.



---

Long-awaited Toyota Ohashi (big bridge) completion


*** This photograph is Toyota Ohashi , was made in March, 1999 ***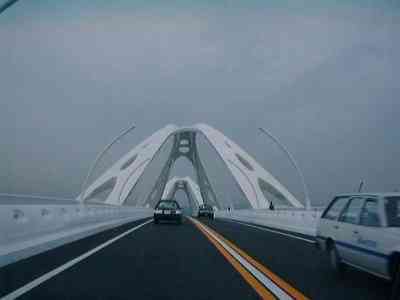 This bridge was designed by architect Kurokawa Kisyou. and Toyota-city at a great cost of nine billion nine hundred ten million yen and built. This bridge needed the cost of about 2 times of the bridge of the same scale. The reason is because it kept the function of the sightseeing stand of the fireworks convention of 1 time of year. Also, it is the symbol of Toyota-city. And, Many people, see the fireworks on the bridge at the time of the fireworks convention in this summer.
However, the sightseeing from the sidewalk of the bridge was prohibited in the fireworks convention in this year.


---
*** Night view of Toyota Ohashi ***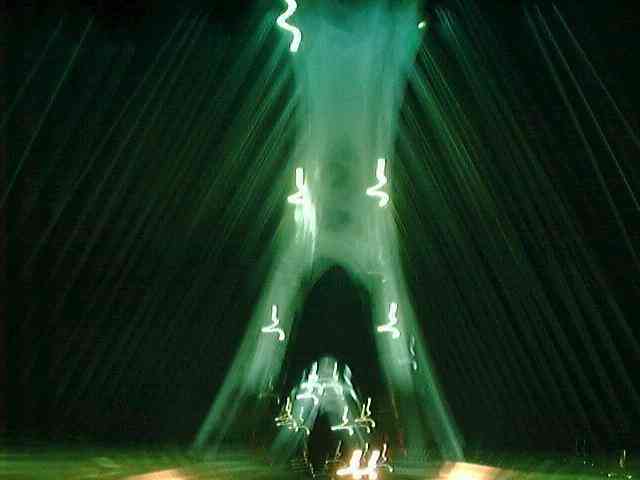 Also. This bridge is done lighting up in nighttime.
It is very fantastic.



---
***Toyota Ohasi at the time of Toukai local torrential rain (Nov 9.2000 shot)***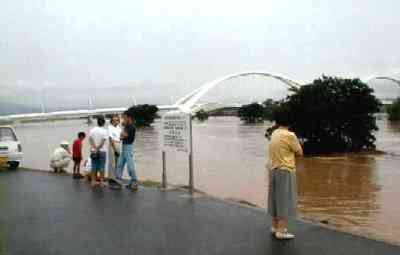 Yahagi River of muddy stream water level of the peak was early morning and said to have risen about 1 m. Therefore, the authority was afraid of the collapse of the embankment. The refuge advice was issued in the valley. After that water level drops and the safety of the valley was kept.


---
---
---
Toyota stadium completion(July 21.2001 Open)
Toyota stadium appearance (JUly 25.2001 Shot)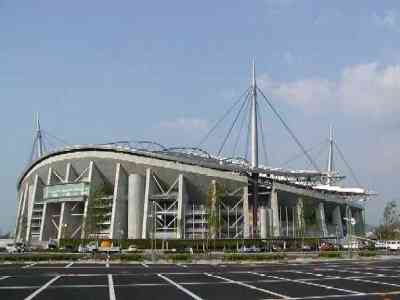 The accommodation number of persons of Toyota Stadium is 45,000 people. It is very big and it is the stadiums of all the climate correspondence.
Characteristic
1.Retractable roof ( need time 50 minutes)
2.Mobile large-screen Video equipment
3.Ground 4th floor, the underground 2nd floor and 1000 parking places
4.The soccer rugby concerts and the others are possible.
Details information of Toyota Stadium about, Please see and please click the following.



---
The inside of the Toyota Stadium (July 25. 2001 Shot)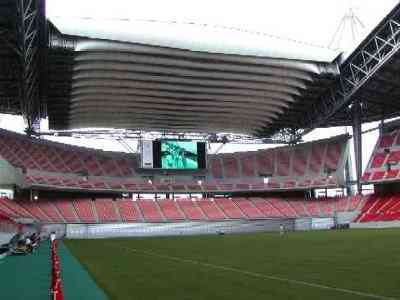 It is the situation of a stand large picture device and retractable roof.
***Outline of the stadium***
1.Architecture area: 40,734 square meters
2.Structure: the iron frame, floor Precast concrete
3.The number of floors: the ground 4th floor the underground 2nd floor
4.The height: 38 m (the roof highest point)
5.Accommodation number of persons: 43, 000 people (A fixation seat),Most many 45, 000 people.
6.Field: 141m x 88m


---
Return to Top Page of English

******

******

---